Cure Back Pain Forever Program
Is sciatica ruining your career?
Ruining your family time?
Ruining your life?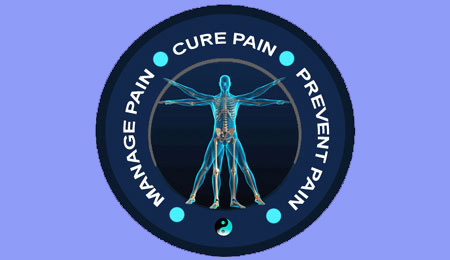 Cure Back Pain Forever: A proprietary, proven, peer-acclaimed and revolutionary approach to chronic sciatica care.
No Drugs. No Injections. No Surgery.
No matter whether you have been recently injured or suffering for years, this program can eliminate your sciatica.
---
Cure Back Pain Forever Program
I suffered horribly for 18 years of my life and had no hope for a cure until I used the techniques in this program to beat my sciatica. I have both sympathy and empathy for what you are going through. I once sat where you are now, desperately trying to find a cure for my horrible pain. I tried every type of treatment available. Some treatments helped my symptoms, but none cured my sciatica. After extensive research into my own chronic pain, as well as the pain experiences of others, I finally discovered the true nature of unresponsive pain. This program is my gift to you. Cure Back Pain Forever has provided excellent results for tens of thousands of patients. Everyone can succeed using this proven program. You can succeed. I want you to be pain-free and see how wonderful life can be once your sciatica is gone. My most sincere desire is to help you to end your sciatica forever. I did it. You can too.
– Sensei Adam Rostocki, Founder of The Cure Back Pain Network
Are you Skeptical? I personally tried almost every type of sciatica treatment and found less than gratifying results from all of them. Cure Back Pain Forever changes the therapeutic approach to chronic pain and provides amazing results. The program is 100% safe for everyone. There are absolutely no risks.
---
How Much Money Have You Already Spent on Your Sciatica?
Doctor visits and co-payments
Diagnostic tests
Rising insurance premiums
Back braces
Medications
Lost time and wages
Not to mention the terrible pain you must endure
You can end it all now. No more expense. No more sciatica.
What is a Pain-Free Life Worth to You?
Regain the Abilities that You Have Lost:
Bend, Lift, Sit, Run, Travel, Sports, Family Time, Work
Do anything and everything you want to do!
You owe it to yourself and you owe it to your family. This program has helped tens of thousands of back pain sufferers to be free of pain.
No more pills. No more worries. No more physical restrictions.
No More Sciatica.
---
Why wait any longer?
The sooner you start the program, the sooner you can see results.
Act today and end your pain.
The name says it all: Cure Back Pain Forever.
Take Your Life Back. Be Free From Pain. Be Whole Again.
I Did It. You Can Too.
I Will Teach You How To Cure Back Pain Forever.
---
GOAL: PREVENT PAIN
The following 3 Ebooks should actually be read by everyone, regardless of whether they have back pain or not. These books are excellent for preventing pain and optimizing holistic health.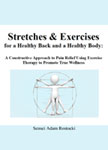 Back Exercises and Stretches Ebook covers stretches, exercises and diet, as well as providing sleep tips for maximum wellness. The stretches and exercises highlighted are easy to do and can be performed by anyone, anywhere, with no further investment. $12.99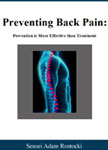 Preventing Back Pain Ebook provides a comprehensive mindbody look at reducing the chances of suffering from chronic symptoms through the use of physical, cognitive and psychoemotional practices which encourage optimal health and a healthy, capable back. $9.99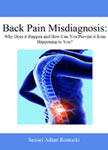 Back Pain Misdiagnosis Ebook investigates the primary explanation for failed treatment and unresponsive symptoms. Learn the reasons why misdiagnosis of chronic pain is now the most serious issue facing medical consumers and how to prevent misdiagnosis from happening to you. $9.99

---
BUY 3 EBOOKS and SAVE!
Back Health Bundle includes Back Exercises and Stretches, Preventing Back Pain and Back Pain Misdiagnosis for $27.99 ($32.97 value)

---
GOAL: CURE PAIN
These 4 Ebooks and are perfect for people who want to end pain that exists right now. Even if residual pain remains, readers can expect dramatically decreased symptoms and complete amelioration of the collateral negative effects of pain on their health. These knowledge therapy books are perfect complements to Dr. John Sarno's Tension Myositis Syndrome (TMS) treatment plan, but go beyond Dr. Sarno's work to provide a cutting-edge view of mindbody medicine: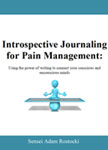 Introspective Journaling is the best knowledge therapy technique, facilitating communication between the conscious and non-conscious aspects of the mind to find repressed sensitivities and disarm the symptom imperative. This is the Ebook resource you need to maximize the effectiveness of your journaling. $9.99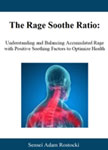 The Rage Soothe Ratio Ebook delves into a crucial concept in mindbody health, providing easily implemented practices to balance accumulated rage with constructive soothing techniques. Reduce the negative health consequences of anger and dramatically change your life for the better. $9.99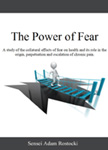 The Power of Fear Ebook helps you to understand how fear negatively influences health. Techniques uncover repressed fears in the non-conscious parts of the mind and facilitate acceptance of these fears consciously, disarming their symptomatic potential and increasing overall satisfaction in life. $9.99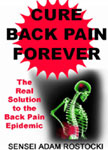 Cure Back Pain Forever is our first Ebook and has been credited with providing the most cures for people with all types of chronic pain. This simple, relatable memoir makes a perfect primer to readers who are new to mindbody medicine and want to get on the right path to end their pain now. Now in its 3rd printing! $9.99

---
BUY 4 EBOOKS and SAVE!
TMS/Mindbody Bundle includes Introspective Journaling, The Rage Soothe Ratio, The Power of Fear and Cure Back Pain Forever for only $34.99 ($39.96 value)

---
GOAL: MANAGE PAIN
The following 3 Ebooks are inspired by The Chronic Pain Coach's proprietary, peer-acclaimed and award-winning pain coaching program. These books are ideal for pain that resists treatment, such as structurally-motivated conditions that never resolve. They teach necessary pain management and coping skills that are effective, safe and ideal for all diagnoses.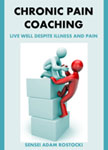 Chronic Pain Coaching Ebook offers a revolutionary, comprehensive, self-managed pain program that utilizes the best constructive pain management practices in the world today. If you have considered pain coaching and want to do it on your own terms, then this is the program for you! Readers report life-changing results. $69.99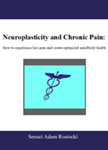 Neuroplasticity and Chronic Pain Ebook explains the concept of changing the neuron connections of the brain organ to better attain conscious objectives through neuroplastic programming. All the tools you will ever need are detailed in this ground-breaking book on a fascinating subject. $9.99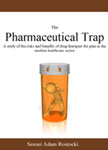 The Pharmaceutical Trap Ebook details the medical obsession with drug therapies, the risks involved in drug treatment and the pain management alternatives that can match efficacy of pharmacological care without any of the risks. You can stop the pain pills and live normally! $9.99

---
BUY 3 EBOOKS and SAVE!
Pain Coaching Bundle includes Chronic Pain Coaching, Neuroplasticity and Chronic Pain and The Pharmaceutical Trap for $79.99 ($89.97 value)

---
BEST VALUE
BUY ALL 10 EBOOKS & SAVE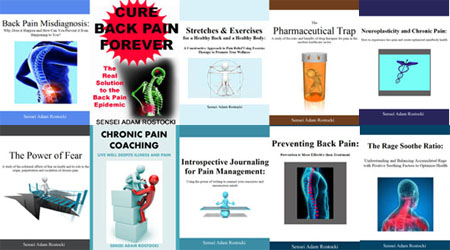 GOALS: PREVENT, MANAGE, CURE PAIN
The complete synergistic program provides an all-in-one solution that works, regardless of the diagnosis or the goals of the patient. This universally applicable program can cure pain now, prevent it from recurring and manage pain that might occur in the future. This is the total back care program that serves the needs of everyone.
The Complete Bundle of 10 Ebooks includes all the titles on this page. If you really want to be well prepared to end chronic pain through complete mindbody health, then this bargain package is unrivaled in its efficacy and value!
Priced at only $129.99 ($162.90 value!) LIMITED TIME ONLY $99.99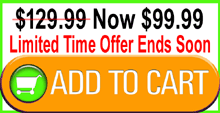 ---
Cure Back Pain Forever Testimonials

The Cure Back Pain Forever Program is great. The books are succinct and easy to read again and again, which is exactly what you will want to do. I refer to the books often and can honestly say that they has done more to help me than any medical treatment I tried over a span of more than 20 years. Thanks Sensei Adam and I share your books with everyone in my life.
Thomas Shuler, Willington, Delaware
I had read Dr Sarno's books previously, but did not connect to them. I gave up the knowledge approach and tried the medical system once again to no avail. I found cure-back-pain.org and decided to give it another try. I really connected to Sensei Adam's writings and found his way of explaining things to be empathetic and brilliant in its simplicity. I am fully recovered from crippling pain after many, many years of suffering with what I thought were herniated discs. I truly can not express my thanks enough.
Michael Esposito, Newark, New Jersey
I read this website for several months and enjoyed many of the articles. I found myself quoting it when discussing things with my doctor and found them to be interested in my new-found knowledge, which they described as "unusually deep and enlightened". After all this, I thought I would read more from Sensei Adam and decided to buy the complete book bundle, although I was not sure if it would live up to claims made as far as helping my pain. Well, the books over-delivered, much like the material on the website. They provided me with a great understanding of the interactions of mind and body and have helped me to feel better, despite many health issues. My only regret was waiting so long to buy them, since I could have used the help earlier to get through some really rough times, but better late than never.
David Dillman, Roanoke, Virginia
I first bought Cure Back Pain Forever in 2006 and used it to supplement my recovery efforts. I was successful and have since shared it with many friends and family. I have sent in my story to this website and had it published and I am so thankful for all the great work you do for people in pain. I must also say that I have used the lessons in this book to better advocate for myself in all health matters and would say it is probably the best money I ever spent. Thank you, thank you, thank you!
Alice Westerfield, Columbus, Ohio
This is one of the best alternative programs for curing back pain that I have ever seen in my 27 years practicing as an orthopedic surgeon. I have to admit that some of Sensei Rostocki's commentary on the methods used to heal back pain was a sensitive subject for me to read about, but I can not deny the truth in many of his ideas. I have since integrated many of the concepts of this program into my own practice.
Dr. Ari Goldstein, Orthopedic Surgeon
This program made me completely change the way I diagnose and subsequently treat back pain. The ideas in these books made me realize that my traditional training in chiropractic was simply not enough to properly treat many chronic back problems. I thank the author for this wonderful program and recommend it to all medical professionals working to treat back pain.
Dr. W.R. Peck, Chiropractor
I am thrilled to endorse this product since it was the ONLY thing that helped me to overcome my own back pain. I was shocked and delighted to finally understand why my back pain had resisted successful treatment for so long. I was a little embarrassed that I did not realize the true nature of my pain on my own. Thank you again, Sensei Rostocki.
Harold Eckstein, Ph.D. Psychologist